ORIGINAL AIRDATE: 09 Oct 2009
OPENING SONG: Kimi ga Inai Mirai 君がいない未来 by Do As Infinity
ENDING SONG: With You by AAA
PRODUCTION:
Script: SUMISAWA Katsuyuki 隅沢克之
Storyboard: AOKI Yasunao 青木康直
Episode Director: TOBA Satoshi 鳥羽 聡
Animation Director: SUGIMOTO Sachiko 杉本幸子
SEIYUU:
Inuyasha: Kappei Yamaguchi
Kagome: Satsuski Yukino
Shippo: Kumiko Watanabe
Miroku: Kouji Tsujitani
Sango: Houko Kuwashima
GOODIES:


Freedom
Long card [848 × 668 pixels]


Yeah, it's enough
Tall card [848 × 800 pixels]
STATISTICS:
Sacred Jewel fragment: 0 / 0 in all
No. of 'sit': 0 / 104 in all
'Kaze no Kizu!': 0 / 90 in all
'Iron-Reaver, Soul-Stealer!': 0 / 63 in all
'Kazaana!': 0 / 36 in all
'Hiraikotsu!': 0 / 51 in all
'Will you bear my child?': 0 / 16 in all
Inuyasha's abuse of Shippo:
0 / 38 head thumps
0 / 1 head grinds
0 / 25 kicks
0 / 4 tail-grabbing
0 / 2 throws
0 [76 in all]
'I must be strong!' 0 / 17 in all
Miroku's groping of Sango: 0 / 11 in all
Kagome's arrow hit percentage: 71.1% [64/90]
---
Contents
Quotes
Now, go. Wherever you desire. Go and enjoy it. The short time you have left. Although, all you will feel is anguish and despair. Kagura, that is the freedom you wished for.
I came following the scent of blood and miasma.
I see. You thought it was Naraku. Are you disappointed? That I wasn't Naraku.
(pause) I knew it was you.
I see... (thinking: You came.. knowing it was me, huh?)
Kagura slouches over.
(thinking: Tenseiga cannot save her.) You're leaving?
Yeah, it's enough. (thinking: In the end, I got to see you.)
Oddities and Other Notes
References
—
Oddities
—
Did you notice…?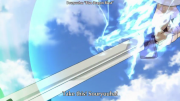 …Sesshomaru actually has a name for his attacks, Blue Dragon Blast?
Freeze Frame Fun
—
Links
Comments
Add your oddity, observation or comments?
Compiled on 22 Nov 2009.
Last revised on 25 Nov 2009.
Dialogues adapted from the Japanese-dub, English-sub version of Inuyasha distributed by Odex (Singapore).
InuYasha is copyrighted by TAKAHASHI Rumiko / Shogakukan and its distributing rights are owned by Yomiuri TV and Sunrise.
Contributors & References
犬夜叉 official web - 放映予定一覧 (Sunrise Inuyasha official web - Airing Schedule)
犬夜叉完結編 公式サイト (Sunrise Inuyasha Kanketsu-hen official web - Airing Schedule)
Inu Goya> Metro: General Episode Information
Shirogetsu for Inuyasha Tsubo
DCYK Connection: アニメ犬夜叉のページ
Contribute to the Episode Capsules
Contributions to the capsules are welcomed! Contributors would be credited. Please email to isthisanuniquelogin@gmail.com the episode number, the section you are commenting on and your nickname.
Distribution


This episode capsule is maintained by Inuyasha Scripts and is free for dissemination, download and print. Should you want to keep/distribute/link to this episode capsule, please retain the revision date and web button beside, as the episode capsules are constantly being revised and updated. Thank you.