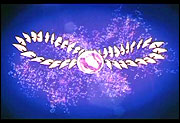 2nd opening theme | Episodes 35-64.
Kanji by InuSEC.
Transliterated by Aoi Housen.
Translated by Sayuri at Anime Lyrics.

---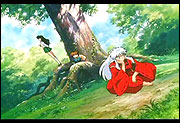 Performer: hitomi
Lyrics [作詞] : hitomi
Composition [作曲] : 北野正人
Arrangement [編曲] : 渡辺善太郎
avex trax
Kanji & Romaji Lyrics
English translation
探そう 夢のカケラ捨い集め
sagasouyume no KAKERA hiroiatsume
Let's search for and gather the shards of dreams.
切なくても 確かな今を感じよう
setsunakute mo tashika na ima o kanjiyou
Even if we're sad, let's be sure of the present.
見かけよりも單純で
mikake yori mo tanjun de
It's simpler than it looks,
だけど伝えきれなくて
dakedo tsutaekirenakute
but I can't tell it all.
言いたい事は いつもポケツトにしまってるネ
iitai KOTO wa itsumo POKETTO ni shimatteru NE
I'm always putting what I want to say away in my pocket.
子供じみた事なんて 今さら言えない
kodomojimita KOTO nante ima sara ienai
I can't say things in childlike plainess now.
時が解決するとか言うけど わかりあえずに
toki ga kaiketsu suru to ka yuu kedo wakariaezuni
It's said that time settles all, but without understanding—
24 時間 君を信じてるよ
nijuuyo jikan kimi o shinjiteru yo
I believe in you 24 hours a day
見つめてるよ
mitsumeteru yo
I stare wide-eyed,
ありふれた言薬でも
arifureta kotoba demo
even at common words
時はいつも 急ぎ足で笑う
toki wa itsumo isogi ashi de warau
Time is always laughing on its swift feet
想い出より 求めた今を見つけよう
omoide yori motometai ima o mitsukeyou
Let's find a present, we want to look for more than memories.
---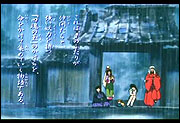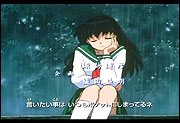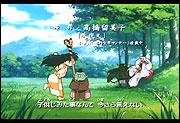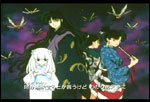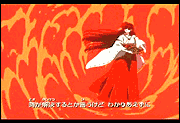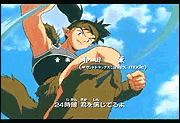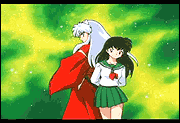 This opening sequence plays on the entrance of Naraku and his detachments. Although a perilous journey, the group still 20journeys on to find the Shikon fragments. Even Rin is added to Sesshomaru's group, playing up the 'I believe in you 24 hours a day' camaraderie.
Inuyasha's fight: Koga
---